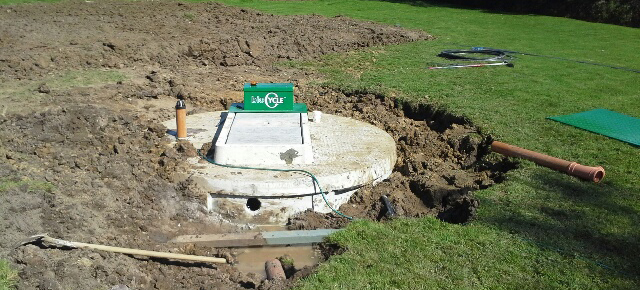 bioCycle™ provide a complete service for replacing your existing septic tank or sewage treatment system. The superior bioCycle™ System overcomes all the problems associated with septic tanks and defective treatment systems. Common problems include:
Foul Odours.
Overflow of Sewage to the Garden.
Frequent Desludging / Emptying.
Sewer Blockages.
Tank Collapse or Floatation.
Insect Infestation.
Pollution of wells and Watercourses.
Risks to Public Health.
Breach of Building and General Product Safety Regulations.
Under the Water Services Act 2012 the homeowner is liable for any pollution from their wastewater treatment system. Local Authority's have started carrying out inspections to ensure wastewater treatment systems are working and being maintained.
For information download the following flyer WHAT TO EXPECT FROM A SEPTIC TANK INSPECTION from the department of the Environment, Community and Local Government.
Testimonials
Now Fully Certified And Compliant
There was an old septic tank in my property when I bought it in the late 1970′s. I had heard all the talk in the media about inspections and felt I better do something about my system. I had no records of where the percolation area was and felt the tank might be leaking. I did a bit of research online and came across bioCycle™. They were offering a complete replacement of the system and percolation area and were provided all the certification in house. I replaced in septic tank with the bioCycle™ system in 2011 and am very happy with the system and the service so far.
Gerry and Rita Sheehan, Adare, Co. Limerick.
BioCycle™ – A Superior System All Round
I installed a small plastic wastewater treatment system when I built my house 10 years ago. From the start I had problems with the system. I was getting it emptied up to three times a year and was constantly having problems with odours and blockages. I was being to worry every time I put on the washing machine ad dishwasher. It was apparent fairly early on that the system chosen was too small for my house. In 2012, I contacted bioCycle™ about replacing my system. A neighbour had their system installed and had no problems over the years. I eventually decided that a replacement system was my best option and went with bioCycle™. The initial cost of the system was high but overall when I considered the long term running costs it was the best option. I was very happy with the system and would not hesitate to recommend bioCycle™.
Sheelagh Kelly, Brittas Bay, Co. Wicklow.
Are you eligible for the Septic Tank Grants or Home Renovation Incentive (HRI) Scheme
For Free Advice Low Call 1890 929 612 or fill out our contact form.